Newsroom » News
No one becomes a bishop unbeaten - Of failures and mistakes in innovation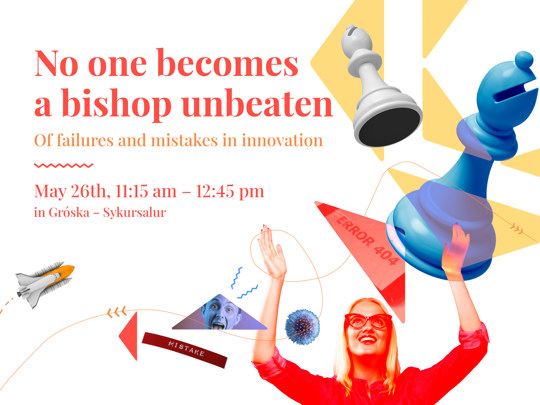 12. May 2023
May 26th, 11:15-12:45 in Gróska, Sykursalur
Join us to celebrate failures and mistakes in the innovation process at this Friday-lunchtime event, held as a part of the Iceland Innovation Week. What better way to learn than from the mistakes of others?
No one will ever start a company or market a new product or service without making some critical mistakes. At this unique event entrepreneurs, innovators, and representatives of innovative companies will share some juicy stories of how they got burned and how some of their mistakes have led to great things (and how others didn't).
The event is organised by the Icelandic Intellectual Property Office, Controlant and the Federation of Icelandic Industries. It will neither be streamed nor recorded.
Programme:
Borghildur Erlingsdóttir, Director General, The Icelandic Intellectual Property Office
Guðmundur Árnason, CFO Controlant
Tatjana Latinovic, Össur, VP Intellectual Property
Ásgeir Örn Ásgeirsson, CTO Meniga
Short lunch break. Sandwiches and soft drinks will be served.
Ellen María Bergsveinsdóttir, CEO Mink Campers
Sandra Mjöll Jónsdóttir Buch, Managing Director of the University of Iceland Science Institute and former founder and CEO of Platome Biotechnology
Sigríður Mogensen, Director of Industries and IP, Federation of Icelandic Industries
Áslaug Arna Sigurbjörnsdóttir, Minister of Higher Education, Science and Innovation